This RCS is prepared under provisions of the Catchment and Land Protection Act 1994 in line with objectives of the Act including to balance land productivity and conservation outcomes and to encourage and support community engagement.
Developing and implementing of the North East RCS is also guided by local, regional, state, national and international legislation, policies and strategies.
Legislation, policies and strategies guide and influence NRM in the north east region. Key publications that relate to NRM in north east Victoria are shown below for each of the themes of land, water, biodiversity and community. Also given prominence are the policies and legislation relating to Traditional Owners/First Nations Peoples.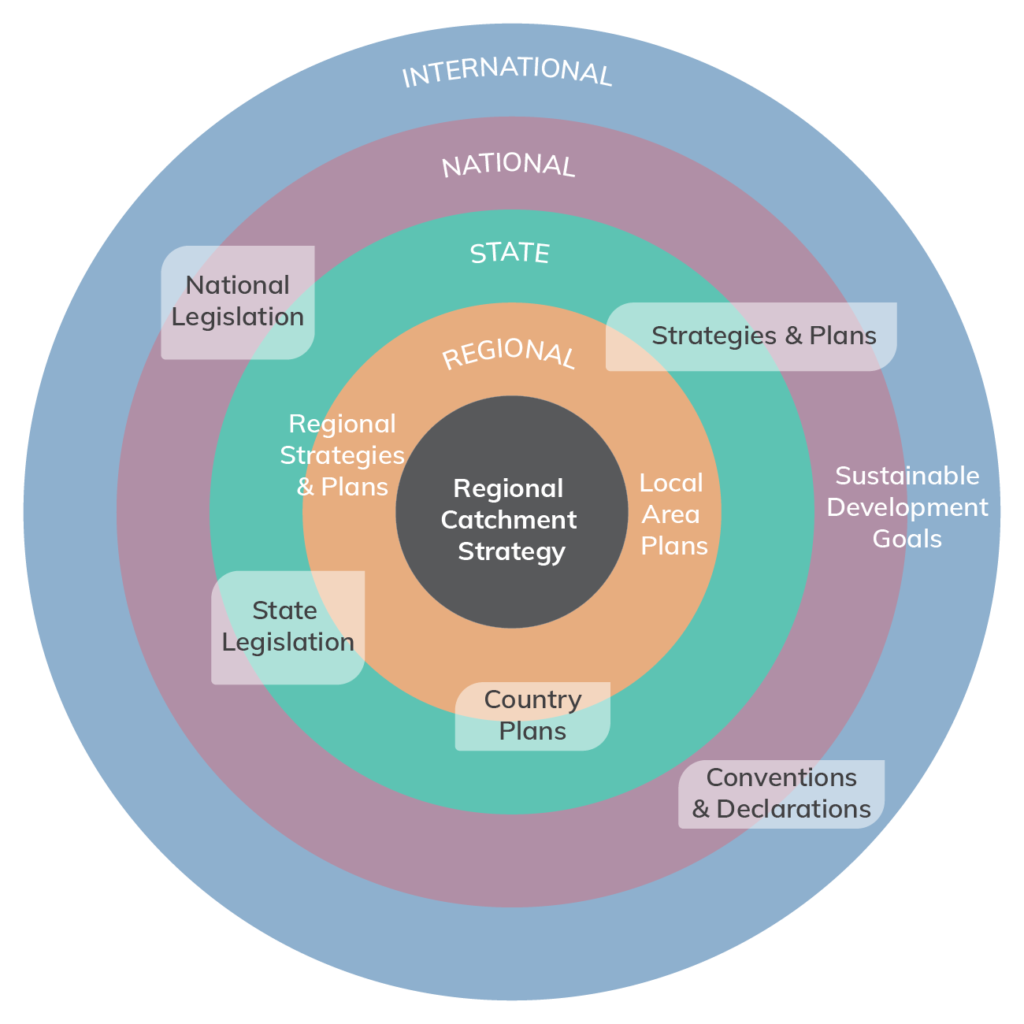 Regional and local
Table 1. RCS Regional and local policy context.
State
Cultural Landscape Strategy
The Victorian Traditional Owner Cultural Landscapes Strategy aims to redefine the connection to Country for the world's oldest living culture.
The strategy was led by Traditional Owners/First Nations Peoples and facilitated by the Federation and developed in Partnership with the Department of Environment, Land, Water and Planning (DELWP) and Parks Victoria. The Strategy is the first of its kind in Australia and sets out a framework to systematically enable and empower Victorian Traditional Owners to lead planning and activate cultural knowledge and practices to manage Country.

Read the strategy here.
National
Table 3. RCS National policy context.
International
Table 4. RCS International policy context.
Sustainable development goals
The North East CMA supports the objectives of the United Nations Sustainable Development Goals (SDGs).
The 17 SDGs and their associated 169 targets were agreed by 193 countries at the United Nations in 2015. They deliver a global framework for sustainable development to 2030. Under the framework, environmental, social and economic development are indivisible. The goals aim to reduce poverty and inequality, promote prosperity and well-being for all, protect the environment and address climate change, and encourage good governance and peace and security.
The SDGs provide a common overarching framework to achieve a better and more sustainable future for all. They address the global, and local, challenges we face, including poverty, inequality, climate change, environmental degradation, peace and justice. 
The aim of these goals is reflected in our work, and the work of our Traditional Owners, partners and communities, and serve to strengthen the integration of projects and programs across organisational boundaries, and place added emphasis on the need to work together as one organisation for the benefit of our community and the environment, now and into the future.
Our collective actions may be local, but they contribute to a broader global sustainable development movement. This movement is brought together in support of the United Nations Sustainable Development Goals (SDGs).